About Us
Founded in 1994, Rosemark has been providing expert healthcare for women for over three decades. From the humble beginnings in a small office adjacent to EIRMC, Rosemark has grown out of two facilities including the offices adjacent to Mountain View Hospital.
In 2015 Drs. Steve Robison and Matt Robison embraced the opportunity to take a leadership role with Rosemark and build upon the outstanding foundation established in earlier years. Interestingly enough, the two Drs. Robison are not related!
Rosemark currently provides services in a beautifully constructed new facility on Potomac Avenue. For patient convenience, we also have an office in Taylor Crossing located at 808 Pancheri.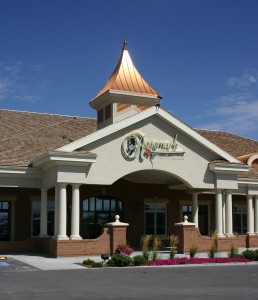 Over the years, Rosemark has grown to include five board certified ob/gyn physicians in our obstetrics and gynecology group. All physicians are highly credentialed and experienced in obstetrics and gynecology with an additional board certification in Urogynecology.
All providers have been trained in the latest surgical techniques and have years of experience performing minimally invasive surgeries when needed. As the region's only Urogynecologist, Dr. Ty Erickson specializes in female pelvic medical conditions and is highly sought out for his medical expertise.
Along with the ob/gyn doctors our practice also has certified physician's assistants, nurse practitioners, and even certified nurse-midwives to choose for their care. All are certified and credentialed. Patients of Rosemark may also choose between male and female providers for their healthcare needs.
Rosemark has established itself as the leader in women's health care with the highly credentialed ob/gyn doctors and by investing in state-of-the-art technologies such as our 3D/4D ultrasound and Dexiscan bone density scanning machines. The Rosemark staff is certified and has extensive experience with this specialized equipment that provides an optimal experience for our cherished patients.
Our team is comprised of caring, trustworthy professionals that are dedicated to providing the best possible women's care available anywhere.
MISSION STATEMENT
It is Rosemark's mission to provide the best overall healthcare for women through optimal healthcare experiences that revolve around individualized and compassionate care. With credentialed and experienced healthcare providers, our patients will receive the highest level of expertise for their lifetime of care. We embrace new technologies and provide a unique blend of medical services that best suits each individual patient. With our well-trained support staff, all services are enhanced by efficient processes that make each visit flow smoothly.