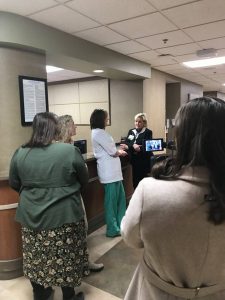 Idaho Falls, Idaho – The three certified nurse midwives at Rosemark Women Care Specialists are now approved to deliver babies at Eastern Idaho Regional Medical Center (EIRMC). Susan Binegar, Natalie Taylor and Heather Duffey, all Certified Nurse-Midwives (CNMs), have been delivering babies at Mountain View Hospital for many years but have now been approved to also deliver babies at EIRMC. The first CNM delivery was performed on Sunday, March 25th by Natalie Taylor.
According to Dr. Steve Robison, "We are always looking for ways to provide choices for our patients. Many child bearing women prefer to have a nurse mid-wife deliver their baby but until recently, Mountain View Hospital was the only choice for our patients."   Dr. Robison continues, "For many years we have been working with EIRMC to gain trust and support for Rosemark's nurse-midwives to be able to deliver at our patient's location of choice. We are grateful that we can now offer midwifery services at both local hospitals."
Women who are pregnant or are anticipating pregnancy and are interested in working with a Certified Nurse-Midwives for their child's delivery are encouraged to contact Rosemark at 208-557-2900.
About the Rosemark Nurse Midwives
The Rosemark certified nurse midwives (CNMs) are all highly credentialed. The CNMs at Rosemark have earned both their bachelor's and master's degrees in nursing. They are advanced practice nurses (nurse practitioners) that have the added education and training to care for women in pregnancy and childbirth. While not all midwives in the US are certified nurse midwives, the Rosemark CNMs are licensed health care providers educated in nursing and midwifery at the highest level of education of all midwives.
About Rosemark Women Care Specialists
Rosemark Women Care Specialists (Rosemark) is a local women's medical center that specializes in obstetrics and gynecology. Rosemark provides comprehensive healthcare for women of all ages. In each stage of a woman's life, specific needs are addressed from childbirth to menopause and menopause to incontinence or osteoporosis. Rosemark has the foundation of board certified and fellowship trained physicians, certified nurse-midwives, certified family nurse practitioners and physician assistants. Other unique medical services include sexual health, aesthetics and extensive medical research studies for OBGYN related conditions. To learn more about Rosemark Women Care Specialists, please visit www.Rosemark.Net.