The Annual Event brings Awareness to Breast Cancer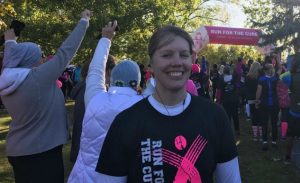 Idaho Falls, Idaho – Rosemark WomenCare Specialists participated in the East Idaho Run for the Cure race on Saturday.  The Rosmark team started the run/walk at Freeman Park bringing awareness to breast cancer with a focus on prevention.  Proceeds of the event are donated to the fight against breast cancer.
Rosemark urges all women 45 or older to start annual mammogram screenings and sooner if they have a family history of the disease.  Mammograms provide early detection which is key to effective treatment and recovery.
If you have questions or concerns about breast cancer, Rosemark encourages you to see your Rosemark healthcare provider by calling 208-557-2900.