Early Signs of Labor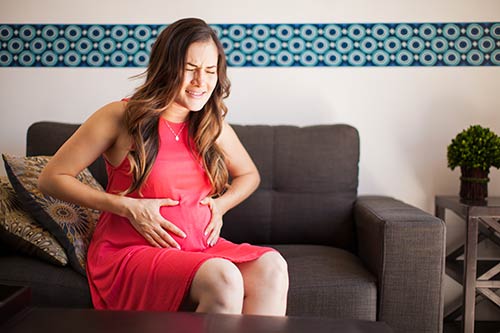 Rosemark's obstetricians and nurse-midwives will instruct patients what to do when they think labor has begun. It can be difficult to identify labor as contractions which may seem regular first subside and only happen occasionally.
Early signs of labor can be different for every woman so while there are some general guidelines, there can be differences.
Some signs that early labor is near include:
The baby settling into the pelvis which is called "dropping" or "lightening."
The cervix could begin to efface (thin) and open (dilate).
Braxton Hicks contractions (sporadic "false labor" contractions) become more painful and frequent.
Water may "break." This is a rupture of the membranes of the amniotic sac and if it happens, call your obstetrician or nurse-midwife right away.
The key to knowing labor has begun is when contractions become regular, longer, stronger and closer together. After a while it will become hard to talk during a contraction. Many women will stay at home during early labor but it is important to know when to call the doctor or nurse-midwife.
Anytime during early labor, someone should call 911 immediately if the need for emergency care is detected as in situations like severe vaginal bleeding or severe pain in the belly or pelvis.
Call your doctor or nurse-midwife or go to the hospital labor and delivery immediately in the following situations:
The baby has stopped moving or is moving less than normal. Count the number of kicks which may be about 10 kicks or movements in 1 hour. Less than 10 kicks in the second- hour will necessitate a call your provider right away.
Regular contractions have been sustained for an hour. This means about 4 or more contractions in 20 minutes or about 8 or more in 1 hour.
Any vaginal bleeding occurs.
There is a sudden release of fluid from your vagina.
Have pelvic pressure or back pain that does not go away.
During early labor or anytime during the pregnancy, patients should call their doctor or nurse-midwife if they have a question or concern no matter how simple or senseless it may seem. Rosemark is here to help!